Luthien Falumus
Eladrin Wizard of Ioun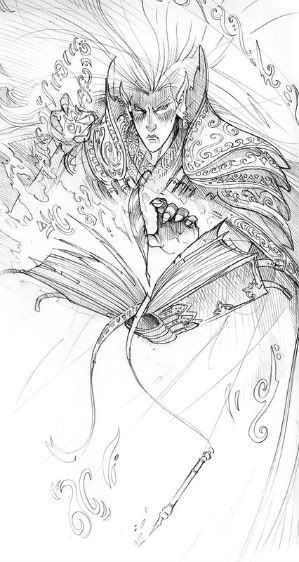 Born at the dawn of time, and gifted early on with the powers of magic, the Eladrin once rules throughout the World and onto the trackless voids. From their capital at Sharniel, the Eladrin dared to pursue mastery of the arcane, opening gates to other realms and awakening the god's wrath. The repercussions of this were great, and after the Sundering the Eladrin relinquished their dominion over the World and retreated to the Feywild, fleeing the wrath of the gods.
Many of the greatest works of arcane knowledge were lost during this period, presumed destroyed by the great hordes that swept the world clean of the Eladrin's presence. That today only a few ancient and scattered ruins remain a standing testament to the darkest chapter in the Eladrin's history and to the beauty of time.
At his birth, Luthien Auren Falumus was marked by the Daleflame Seers of Ioun as a bringer of prophesy. Luthien was never told of the prophesy, in fear that by doing so the prophesy would not be fullfilled. Throughout his early life he was guided unknowlingly by the Seers, who feared for the darkness that would be soon upon him.
His father, Eravan - the High Wizard of the Silver Stars and Duke of Arranis, taught Luthien from the age of five the arcane skills required for him to one day take his place. He did so in the tradition of his forefathers, and excelled at his study so much so that by the age of 25 Luthien was brought before the Eladar (Eladrin Leader). After performing the Trials he was proclaimed a Master of the Arcane, worthy of the title of Wizard.
For the next 80 years of his life Luthien dedicated himself to the study of the Arcane. Travelling thoughout the Feywild to the ancient repositories of knowlege, and after extensive reflection began to focus his interest on the World and the lost knowledge of his ancestors. Another, Dayereth Sariel, shared Luthien's interests but was tainted by a lust for power that such knowledge would gain him.
Having spent so much time traveling the Feywilds, he felt he could not leave a part of his study undone and so left the Feywild to travel the World. Dayereth, following determined to be the one to find the lost treasures of the Eladrin, and to undermine Luthien wherever possible. The day Luthien and Dayereth left the Feywild, the Daleflame Seers knew that prophesy was about to become reality.
---
Gameplay Information
Statistics
Race: Eladrin
Class: Wizard
Level: 8
Age: 105
Height: 6'9"
Powers: Everything related to Luthien's Powers
Quests
Personal Quests
To pursue all items of arcane knowledge and power.
To search for the Book of Zagreus, Book of Hafsid and the Staff of Elsium.
To fullfill the prophesy
Achievments
Rescued the local Inns Daughter from goblins
Recovered items from Arrowhart's Magical Emporium for Joy Amnom
Defended the Academy of the Five Stars from goblin invasion.
Successfully opened a portal to the Shadowfell.
Became MacGyver :P
Equipment
Standard Adventurer's Kit
Orb
Staff
Fine Clothing
Longsword
2xCrossbow
3xSwords
Bag of Holding
More coming soon
Magic Items
Coming Soon
page revision: 1, last edited: 04 Jan 2010 05:59